What does the Lumbar Decompression Belt do?
Technology that's built to help you heal
The belt inflates with air which stretches and retracts the lower back. This gentle traction helps decompress the spinal discs and allows the spine to align to its natural position.
Release spinal pressure
The decompression helps relieve pressure off degenerative, herniated, bulging discs and pinched nerves such as sciatica. This allows degenerative discs to get the water, oxygen and nutrients it requires for faster healing. 
 Ease of use, ease of pain
Stretches and retracts the lower back as it inflates with air. This gentle tractions helps decompress the spinal discs. Use it anywhere, anytime. 
The BackOsage Lumbar Decompression Belt inflates from a width of 5 inches to a width of 8 inches, placing your spine in an upright position and providing support to your lumbar spinal cord. By returning your spine to it's natural position and taking some weight off, the BackOsage Belt provides room for your vertebrae to stretch and for your intervertebral discs to return to their original position. This reduces the back pain that originates from herniated / bulging discs which can be very painful as they hit the nerves in your spinal cord. 
The BackOsage Belt uses the same therapeutic principles used by chiropractors to decompress the spine and relieve lumbar pressure to help relieve back pain. 


Ultimate back pain solution combining 8 back treatments in 1 light portable unique belt

BackOsage Brace Back Pain and Support Lower Lumbar
Providing clinical grade traction and decompression therapy. Decompressing the spine allowing for discs to return to normal. Decompress lower back joints and spinal discs while lifting the upper body weight off of your lower back. It stabilizes the lower back and improves posture

INFLATABLE DECOMPRESSION BELT

Massage Therapy stretches tight muscles to relieve stiffness and soreness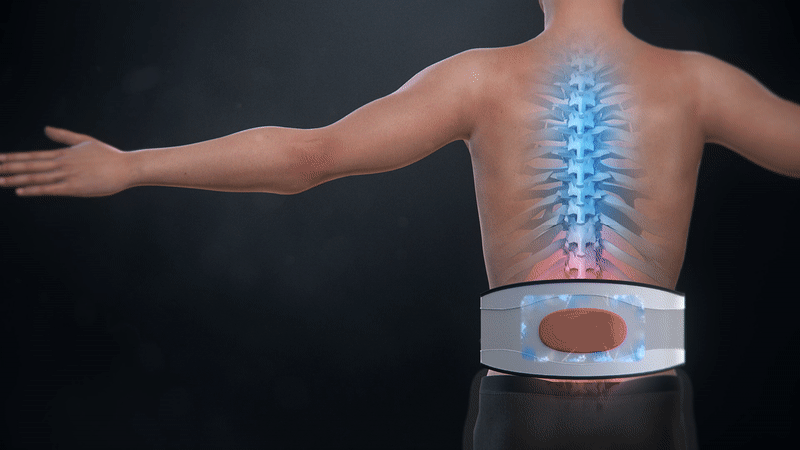 Graphene produces far infrared wavelength from 6-14 um when generating heating, which can be easily absorbed by our body


Magnetic therapy can be known to help as a complementary process with added magnets

You are sitting for 9 hours a day, why not do it right?
Many of us are sitting down everyday and working in an office chair, you likely will have some kind of back issues that need to be worked out. With Backosage, you can do just that at the office or in the comfort of your own home.
Back pain can be the end of productivity, getting in the way of all the things you need to do

Simple, easy to setup and use
Backosage can work handsfree, without being noticeable, unlike other massagers that are bulky, awkward and need your attention.
Many massagers aren't as portable as they say, because they require being plugged in, unlike Backosage which is rechargeable for use anytime, anywhere. So don't just use at home or the office, strap on easily and move freely.