Product Parameters
Bag Size: Large
Product detail
Features:
1. Front card bag, independent milk bottle storage.
2. Aluminum foil insulation keep milk warm.
3. The bag comes with 210D lining, 25 parts foam, mesh braided material, aluminum foil cotton, waterproof layer.
4. 14 pockets have great usefulness: the backside put down area, main bag storage area, independent insulation warehouse, portable areas on both sides.
5. Isolate with peace of mind and sleep comfortably; the support frames on both sides can prevent the parents from pressing the baby when they are asleep.

Specification:
Name: Folding Crib Mommy Bag
Size: about 32*20*41cm/12.60*7.87*16.14inch
Bed size: about 76*23cm/29.92*9.06inch
Material: waterproof Oxford cloth, cationic fabric, PVC waterproof layer, pure cotton lining cloth, aluminum foil insulation cotton.
Packing List:
Backpack*1
Diaper Pad*1
hook up*2Convertible Baby Bed: This convertible portable baby cradle provides cover for your little baby. Quickly and easily respond to the changing needs of babies, such as sleep time, feeding and play time.
Multiple Uses: The 4-in-1 baby diaper bag is essential for every parent. It can be turned into a travel bed, diaper pad, stroller organizer, and a spacious interior. It can serve as a travel cradle; with convenient pockets, more things can be accommodated in the stylish schoolbag.
CHANGING YOUR BABY'S DIAPER IN PUBLIC WON'T BE A MESSY NIGHTMARE ANYMORE.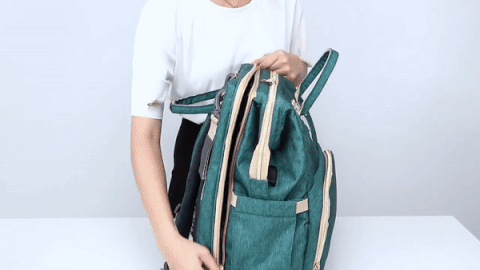 Having a private, clean, and controlled environment can be a lifesaver in keeping your child comfortable. Fortunately, Nursery Bag has you and your baby's butt covered.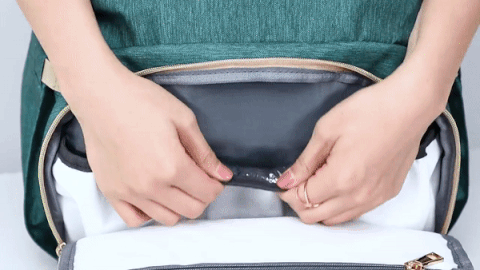 ✔ All-In-One: Whether it's naptime, changing time, feeding time, or you're just on the go, this versatile all-in-one bag can be set up or packed up in just a few short seconds.
✔ Fit All Your Child's Needs: Our spacious variety of pockets are built with all the essentials in mind. Store your bottles, wipes, towels, diapers, spare outfits, toys, pacifiers, and more.
✔ Keep Your Bottles Warm: Maintain perfect bottle temperature and freshness over long periods of time with our aluminum lined pockets.
✔ Avoid Strenuous Cleanup: Our premium waterproof Oxford fabric was designed to save you from any unnecessary burdens. Changing your baby's diaper can get messy quickly. You can easily wipe away any spills and splashes off our waterproof surface like magic.
✔ Save Your Back: Our lightweight bag weighs just 3.3lbs to protect your overworked back from additional stress. Easy to carry around or even take as a carry-on bag during flights.
No matter where you are, this all-in-one baby diaper bag is a must-have for every mother looking to coast through parenthood like a supermom.
Large Capacity: The maximum storage capacity means that they can store bottles, diapers, toys, clothes, rags, and other items needed for babies.
Change Diapers Pad: Your baby can safely stretch and sleep comfortably, and you can change diapers for your baby anytime, anywhere, whether you are traveling on a weekend or going to the beach during the day.
Practical&Convenient: This is a baby diaper changing table and mummy backpack, and it is a practical, versatile, convenient and spacious bag that allows your baby to sleep comfortably and safely anywhere. It provides a safe and hygienic space where your babies can lie down and rest anytime and anywhere.
Bag Size