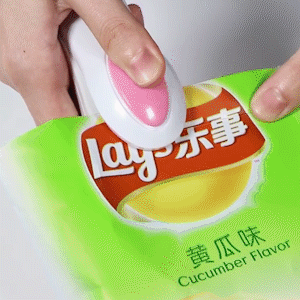 The struggle is so real when you try to keep your snacks fresh! Sometimes, chips or cookies become stale or you lost those tiny little clips. This Mini Heater Sealer has a ceramic heating head that seals tightly and removes the air. It's very handy and convenient to use anytime and anywhere.


Simply slide it along the edge of any bag and it's sealed airtight in seconds!
Make your food stay fresh longer with this super handy and hassle-free tool. No more stale chips or missing clips!

It seals most of the common plastic or aluminum bags. Keep all edibles (groceries, chips, candies, snacks, leftovers) FRESH and DRY.

It easily attaches to refrigerators or any stationary metal surface so you will keep it handy in your kitchen, outdoor, cabinet or anywhere you need it.