BATTLE ROBOT HAMMER TOYS ARE A COST-EFFECTIVE PRODUCT THAT IS DURABLE AND YOU CAN USE IT REPEATEDLY, NO NEED TO CHANGE FREQUENTLY, SAVING YOUR MONEY, IT CAN BE LOVED DUE TO ITS SMART STYLE. THE STYLISH AND CLASSIC LOOK CAN ATTRACT YOUR ATTENTION, AND IT CAN ALSO BE THE PERFECT GIFT FOR FAMILY, FRIENDS OR LOVERS. HAVE IT AND ENRICH YOUR LIFE.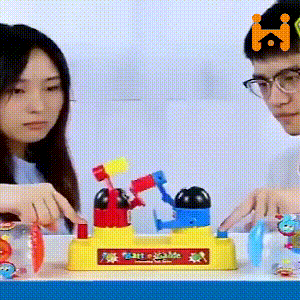 FEATURES:
Game Rules

 - One robot is hammered and protected with a shield, hands on the attack button, quickly press it to hit the opponents head with a hammer, and quickly release to prevent the shield from hitting.

Game Goal

 - Whoever hits the opponents head pops up as a victory, please start your explosion attack, who responds speed is better faster, it is a great table game for parent-child interaction or friends gathering.

Game Interactive

 - Hammer game is set to 2 players, recommended for children over 3 years old, fun and great toys for classic fun of all ages, simultaneously a great way for adults to decompress.
SPECIFICATIONS:
Material: ABS

Color: Red, Yellow, Blue

Size:23*17*7 CM
PACKAGE INCLUDES:
Material:: [ ABS]